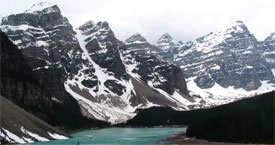 From www.wikipedia.org
19th International Conference on
Scientific and Statistical Database Management
July 9-11, 2007, Banff, Canada
http://ssdbm2007.cpsc.ucalgary.ca
Information for Authors
Call for Papers [pdf]
Submission Instructions
Submission Site
Important Dates
Registration
Accommodation and Travel

Organization
Program Officers
Program Committee
Steering Committee
Student Volunteers

Banff
Venue
Useful Links
Sponsors

All sessions will be held in the Max Bell Bldg, RM 252
Wednesday July 11th 2007

8:30am
to
10:30am

Session 7: Data Mining, Chair Agma J.M. Traina

Mining RNA Tertiary Motifs with Structure Graphs. Xueyi Wang (UNC-Chapel Hill), Jun Huan (Univ. of Kansas), Jack Snoeyink, Wei Wang (UNC-Chapel Hill).
Retrieval of Spatial Join Pattern Instances from Sensor Networks. Man Lung Yiu (Aalborg University), Nikos Mamoulis (University of Hong Kong), and Spiridon Bakiras (City University of New York).
Gene Ontology-Based Annotation Analysis and Categorization of Metabolic Pathways. Ali Cakmak, Mustafa Kirac, Marc Reynolds, Zehra Ozsoyoglu, and Gultekin Ozsoyoglu (Case Western Reserve University).
Adaptive Wavelet Density Estimators over Data Streams. Christoph Heinz and Bernhard Seeger (University of Marburg).

Coffee break
11:00am
to
12:30pm

Session 8: Streams, Chair Nikos Mamoulis

Enabling Real-Time Querying of Live and Historical Stream Data. Frederick Reiss (IBM), Kurt Stockinger, Kesheng Wu, Arie Shoshani (Lawrence Berkeley National Lab), and Joseph Hellerstein (Univ. of California, Berkeley).
iSEE: Efficient Continuous K-Nearest-Neighbor Monitoring over Moving Objects. Wei Wu and Kian-Lee Tan (National University of Singapore).
Effective Summarization of Multi-Dimensional Data Streams for Historical Stream Mining. Samer Nassar and Joerg Sander (University of Alberta).

Lunch in the dining room

1:30pm
to
3:00pm

Panel:

Martin Kersten, H.V. Jagadish, Arie Shoshani, Marianne Winslett

Coffee break
3:30pm
to
5:00pm

Session 10: Potpourri

Efficient Indexing of Heterogeneous Data Streams with Automatic Performance Configurations. Ken Pu and Ying Zhu (Univ. of Ontario Inst. of Tech.).

Reliable Hierarchical Data Storage in Sensor Networks. Song Lin, Benjamin Arai, and Dimitrios Gunopulos (UC Riverside).

A Distributed Algorithm for Joins in Sensor Networks. Alex Coman and Mario Nascimento (Univ. of Alberta).
A Fast Algorithm for Approximate Quantiles in High Speed Data Streams. Qi Zhang and Wei Wang (UNC-Chapel Hill).